CrossOver Expands Watch on Recommendation Algorithms
CrossOver has been selected by the Mozilla Technology Fund to continue running for a year in 8 more regions.
Check First was awarded by the Mozilla Technology Fund (MTF) to continue expanding the CrossOver project to 7 new French speaking regions and countries. As one of the eight top-quality projects selected by the MTF, CrossOver is committed to focusing on an emerging, under-resourced area of technology with real potential for impact: auditing tools for recommender systems.
The first iteration of the CrossOver project emphasised how recommender systems have become an integral part of our daily lives, and we feel it is imperative that we hold the platforms using them accountable. Auditing processes are crucial to building such accountability, and CrossOver is dedicated to developing and implementing these processes.
To achieve this, CrossOver will continue to simulate social media and big platform users to collect data about recommended content. The collected data will then be compared to data provided by the platform's own APIs, where available. In order to facilitate this monitoring process, CrossOver is partnering with volunteers who will host the monitoring devices at their residential addresses.
Volunteers needed
To further extend the CrossOver network, we are seeking volunteers in Canada (Québec), the Democratic Republic of Congo, France, Mali, Morocco, Senegal, and Switzerland (Romandie) to host small analysis devices.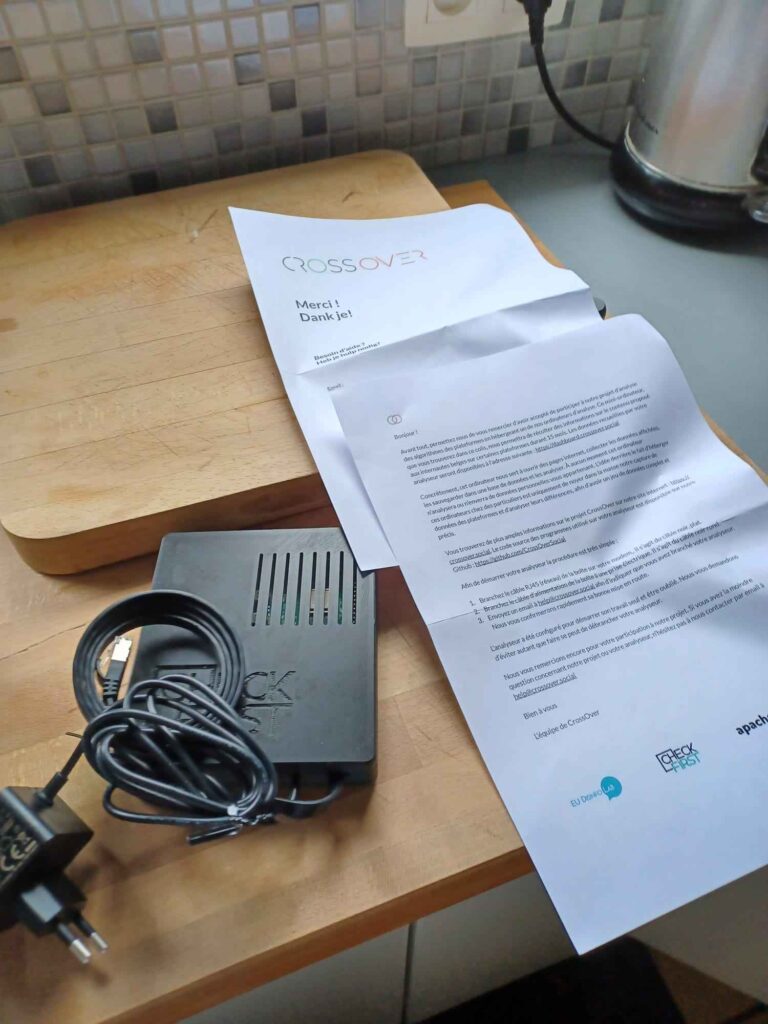 These plug-and-play devices will enable us to better understand the influence of recommendation algorithms on a global scale.
The requirements for hosting an analyzer are straightforward: you must have a 24/7 internet connection, access to your router, and an available electrical outlet near your router. Our devices are designed to be energy-efficient, consuming approximately 2€ of energy per month at the Belgian energy tariff.
By hosting an analyzer, you will become an essential part of the CrossOver network, helping us shed light on the impact of recommendation algorithms and actively contributing to the fight against misinformation. Together, we can work towards a more transparent and trustworthy digital landscape.